By Teun Hoek
Marcel Hartmann has been involved in the establishment of the Offshore Wind Innovation Center (OWIC) project in Eemshaven, Groningen, from the very beginning. Prior to this, he worked at Rope Access Noord and Arvick. His main focus there was on the mechanical side of (innovative) bolting methods and bolting projects. In his new position at RelyOn Nutec, business development will also play an important role. Marcel knows the offshore wind world well and was involved in setting up an earlier training centre in Eemshaven.
RelyOn Nutec and the OWIC project
The OWIC project was launched by the North Netherlands Offshore Wind Federation (NNOW) and the programme also raised the question "how do we train the professionals of tomorrow and what training package should this involve?". RelyOn Nutec was asked for this. They are a renowned and much sought-after training and safety institute within the maritime, on- and offshore oil and gas sector, as well as the wind industry. With several offices in Europe, including in the ports of Rotterdam and Amsterdam, Bremerhaven and Ostend, RelyOn Nutec is a well-known player in the market.
The training courses that RelyOn Nutec provides to employees in the wind industry are in accordance with the Global Wind Organization (GWO) training standard. GWO is a global organisation that takes care of the development and promotion of safety training as well as technical training within the wind industry. Although there is a GWO Basic Technical & Mechanical Training available, the members within the bolting work group believe that a higher newer standard of training is needed, one that better reflects the current situation. For this OWIC bolting project, we are working together to collect the needs and problems within the market.
Bolting working group
Marcel's role in OWIC is to follow up on the development of a new bolting training course. He does this as work package leader of 'the Bolting group'. For anyone who is not yet familiar with this term, it refers to bolted connections in a wind turbine. The bolting work package tries to make durable connections and train technicians better with the knowledge and innovation available nowadays. Being able to work more safely inside a wind turbine at sea and with limited space is extremely important. Employees sometimes have to install heavy bolts and nuts weighing more than 25 kilograms under harsh conditions. In addition, bolting teams have to deal with time pressure to make a good connection. All in all, important developments, because if you are able to save an extra bolting campaign and create a more durable connection in the long run, there is a significant saving to be made in terms of resources, staff deployment and - not unimportantly - emissions.
Training centre
More and more students want to work in the wind industry, but where can they go? OWIC must become the place for (re)education. This is necessary, because it is expected that 15,000 new people will soon be needed in the offshore wind sector in the Northern Netherlands alone, and particularly in the Eemshaven development area. The focus is mainly on construction and the further development of existing techniques. It will be a challenge to get these people to work in Eemshaven, and much depends on facilities such as (temporary) housing, training and new companies that are still to come. Fortunately, this is now going to change for the better, for example with the construction of the centrally located RelyOn Nutec training centre, which is expected to be completed in the first quarter of 2023. In addition to the training centre, RelyOn Nutec wants to support OWIC's partners in safety training initiatives. The image below gives an impression of what the new training centre will look like.

Figure 1: The future training centre at Eemshaven
Trainings and knowledge sharing
Back to the training courses. What exactly are we talking about? Well-known are the Basic Safety Training (BST) and Basic Technical Training (BTT). Training courses for which a common European standard has been agreed. The former includes, for example, how to survive an accident at sea, how to give first aid or how to extinguish a fire in the turbine during maintenance activities. The technical training courses focus, of course, on how to carry out maintenance and measurements on a wind farm quickly and safely.
According to Marcel, these training courses are really 'the basis' you need to be able to work on or with a wind turbine. In addition, due to the growth of innovations in this industry, more and more specialist training courses are required. RelyOn Nutec supports in facilitating this and works closely with its partners and business relations for this purpose. In practice you often see that another organisation takes over part of the training, because it is their core business. Think of a regional educational institution with specific modules.
In addition to a location for education and training, the training centre is also a knowledge centre where everything comes together. It should bring people in the offshore wind industry together, share knowledge and above all create more openness in a naturally closed sector. Especially when it comes to a topic like bolting, everyone knows that there is plenty of room for improvement, but there is not much openness about it. This is partly understandable; as a major player, you are vulnerable to damage to your image if you are transparent about what could be improved. Nevertheless, the search for more openness is ultimately important for the entire sector if it is to be taken seriously as a solution to global problems such as war and the climate. For this, transparency and cooperation are necessary. OWIC must be a business-to-business (B2B) model, with a common counter. So, islands must be avoided. Together with regional educational institutions, tailor-made education can be developed and marketed. Ideally, all this will come together in the new training centre.
Future
As work package leader for bolting, Marcel will be co-managing the Eemshaven location. On the one hand, he finds this a great challenge and, on the other, it provides more time to actually make progress. This is necessary according to him. Eemshaven is already a forerunner when it comes to offshore wind. If large companies with more projects join in, everything can coincide.
What will Marcel do in the coming period from his new position? To achieve the goal; to promote the region and make it grow for companies and employment. The intended effect is to become a major magnet for European industry. All the big turbine builders will then know where to find Eemshaven. It's not just about building, but also about storage, transport and recycling (the whole chain).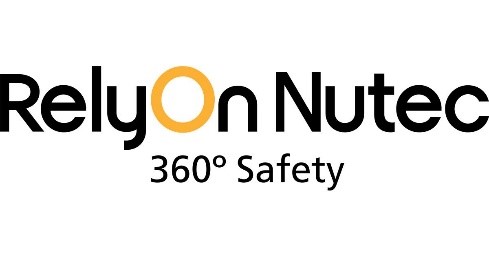 Image 2: Logo RelyOn Nutec